STOP GERMS AND BACTERIA FROM ENTERING YOUR HOUSE!
Are you tired of having to take off your shoes before entering your hours or having to clean them off every time you come home? Don't want to track germs and bacteria into your house?
Our Automatic Shoe Cover Dispenser™ makes it easy to protect your home or office from germs by easily stepping into the device and covering your shoes with a plastic shoe cover. 
Keep your house clean and germ-free with these easy to use shoe covers!
Key Features:
★【The Shoe Covers Machine is Automatic】: Automatic shoe cover machine will easily and efficiently cover the shoes, save your valuable time. It is made of PPT ABS safe to use and environmentally friendly. 


★【No Need to Clean】: Automatic shoe cover dispenser can keep your floor clean and neat, so you need not clean every day. You can use it at the doorway that is occupied and convenient to use.

★【NO Electricity】: Shoe cover dispenser works on a mechanical spring, it will automatically release a bootie around your shoe when you stand in the center of the dispenser. So the shoe cover dispenser not only saves electricity but also environmentally friendly.

★【Widely Use】: High quality perfect for office, home, shop that needs the disposable shoe cover dispenser. The highlight is the thickened spring and the stable hooks which increase the durability and stability.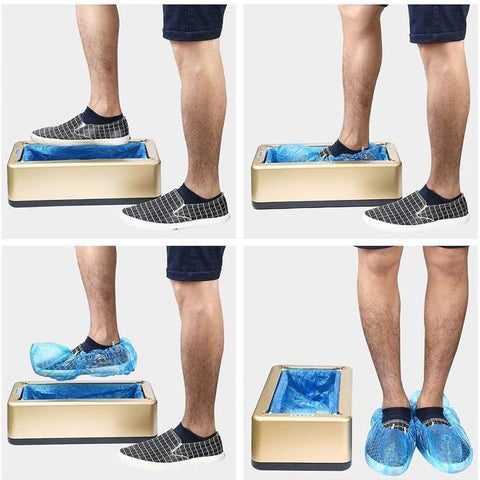 Different Uses: 
☀ Use to protect office floors and carpets where operatives enter from dirty areas.
☀ Protects carpets, and handy to put in the boot of the car to protect Car Flooring.
☀ A safe way for visitors to cover their shoes without a struggle
☀ Hands-free, automatic shoe cover dispenser will easily and efficiently cover the shoes, save your valuable time
☀ Made of PPT+ABS safe to use and environmentally friendly.
☀ Automatically releases a bootie around your shoe when you stand in the center of the dispenser.
☀Fits up to a US 13 shoe size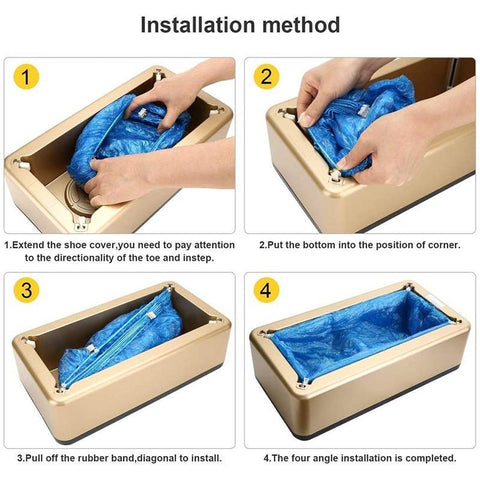 Specifications:
Weight: 4lbs 
Size: 15 X 8.6 X 5 (Inches)
Package Includes:
1 X Automatic Shoe Cover Dispenser