The FIRST Fish Kicker That Moves On Its Own! 
 Easy USB Recharging - NO More Wasting Batteries!
Dancing Fish Cat Kicker Toy - Realistic Moves!
Sale price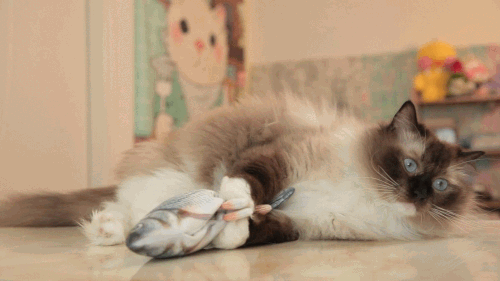 Motion Detecting Motor Inside - Kicks Just Like a REAL Fish When Touched. Stops Itself When Left Alone!

 XL in Size  - Length:
Electric Moving Fish(As video): 11.8 inches (30 cm).
Catnip Fish(Can't move): 7.87 inches(20cm).
 Refillable Catnip Pouch - Cat Safe Velcro Pocket is Easy to Refill with Catnip Over and Over Again!
 ON/OFF Button Inside The Velcro Pocket.
 Cats LOVE it & it's Super FUN For ALL the Family Members Because of it's Funny Tail Movements! 
 You Can Now Be One of the FIRST to have this Unique Cat Toy!
 Did you know cats get depressed too?  Cats actually show signs of being clinically depressed, in a way that affects their physical health and quality of life.Cats become depressed through a lack of stimulation.
Boredom is a trigger of depression
for cats and humans alike! Increased periods of playtime is recommended by vets to avoid depression in cats.  Dancing Fish can help you solve all these problems, and give you an active, lovely and healthy cat. Dancing Fish is an interactive toy fish with three modes of vibration to keep your cat engaged.