SMART CUTTER FEATURES:

Device For All Types Of Slicing
A small compact food chopper and kitchen scissors, which replace a full set of knives and cutting board. Use these unique kitchen gadgets to replace your food chopper, food scissors, vegetable slicer, and fruit cutter.
Ergonomic Grip is Easy On The Hands
The ergonomic handle design lets you work for as long as you like without getting tired. Safe construction protects you from cuts and injuries.
2-in-1 knife and cutting board that Chops & Slices in Seconds
The combination of razor sharp stainless steel blades and cutting board makes cutting, slicing and dicing easy and fast.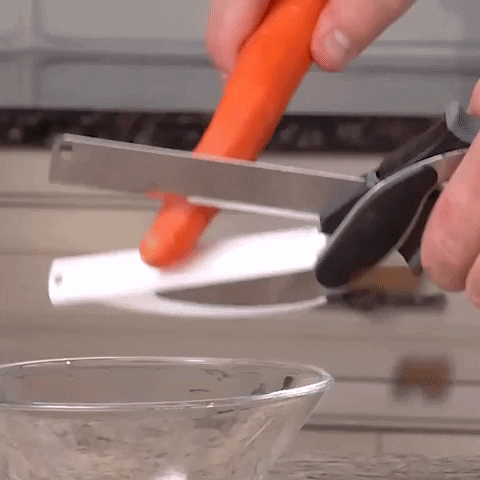 Premium stainless steel blade
Super Sharp Blade made from strong and sturdy stainless steel makes it easier to chop various food items with little effort, and helps to avoid any hand injury due to excessive force.
Advanced safety latch that keeps it closed
Locking safety latch helps prevent accidental cuts. Hang on the wall to avoid children from touching.
Convenient to Store and Easy to Clean
Our Smart Clever Cutter is Dishwasher-safe for easy cleaning, and perfect size to be stored in kitchen drawers and even carried to outings and picnics.
SPECIFICATIONS:
Product Dimensions: 10x1x4 Inch
Color: Black
Material: Stainless Steel
Package Include: 1* Kitchen Knife