As a gift for your loved ones, this limited-stock Nano cleaning cloth will be perfect!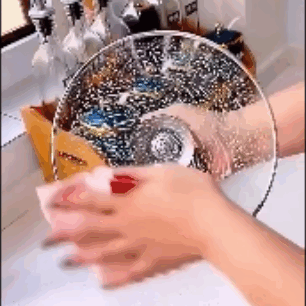 Feature:
Unique scale weave can catch dust easily remove dirt fast. They are great cleaning cloths for house. It can be used on most surface areas in your home. A new look after use them.
The high quality microfiber cleaning towels are designed for lint-free streak-free non-abrasive and without chemicals. Durable Reusable and Machine washable.
Not just great Window cleaning cloth or Glass cleaning towels. Tackle versatile cleaning jobs: Ideal household cleaning products for housework, polishing kitchen tableware drying dishes and car cleaning wipes, jewelry polishing and so on.
Dish cloth is easy to clean. Our soft dish towel is highly absorbent and air quick dry, Different Scenes Can Be Matched With Different Colors. Good Water Absorption, No Water Stains, No Shrinkage After Heating.
Product Specifications:
Size:
Regular: 30 x 30 cm (11.8 x 11.8 inches) 
XL: 30 x 40 cm (11.8 x 15.7 inches)
Colors: 1 of each (red, orange, green, purple, blue) per 5 pack i.e. 10 pack contains 2 of each color
Material: EasyClean premium blend of polyester and nylon composite yarn

Package Includes: 1 x CLEANING CLOTHS